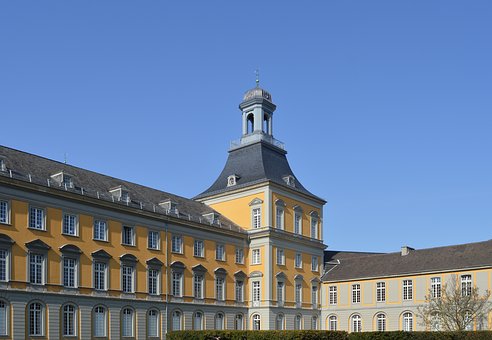 ESPACOMP 2006
ESPACOMP 2006
The 2006 symposium on patient compliance and persistence was held at the University of Bonn, Germany on November 30.
Program
08:30- 08:45 Welcome from the city of Bonn.
Peter Finger, mayor of the city of Bonn
8:45-9:15 Welcome and Introduction.
Rainer Düsing
09:15-10:45 Clinical impact of non-adherence (chair: Eric Van Ganse)
Keynote speaker:  Katherine Grosset
Title: Adherence issues in Parkinson's Disease
Contributed papers:
Adherence to statin therapy and attainment of guidelines LDL-cholesterol therapeutic objectives.
Kitio B.,Laforest L., Lapeyre-Mestre M., Badie K., Massol J., Van Ganse E.
Data from two databases demonstrate improved persistence at 6 months in women treated with monthly vs weekly bisphosphonates.
Silverman S., Cziraky  M., Harley C., Middelhoven H., Barr C., Amonkar M.,  Chesnut III, CH
Medication-related Non-Compliance in Lung Transplant Recipients.
Kugler C., Gottlieb J., Fischer S., Simon A., Tegtbur U., Hecker H., Welte T., Haverich A., Strueber M.
10:45-11:15 Coffee break & Poster session.
11:15-12:45 Adherence enhancing interventions (chair: Ulrich Jaehde)
Keynote speaker: Sven Simons.
Title: Multidisciplinary approaches enhancing adherence.
Contributed papers:
Adherence in cancer patients receiving oral capecitabine.
Roth S., Simons S., Arjukese A, Braun M., Ko Y., Kuhn W., Mey U., Schwindt P., Wolter H., Jaehde U.
Electronic recording of patching for amblyopia group (ERPAG): reasons and a remedy for non-compliance?
Loudon SE, Fronius M, Looman CWL, Awan M., Simonsz B, Van der  Maas PJ, Simonsz HJ.
Estimating the effect of an adherence intervention on blood pressure.
Tousset E., Figueiredo H., Schneider M.P.,Bugnon O., Burnier  M., Vrijens B.
12:45-14:15 Lunch & Poster session
14:15-15:45 Methodology (chair: Sabina De Geest)
Keynote speaker: Bernard Vrijens
Title: Validation of methods for compiling drug dosing histories in ambulatory patients.
Contributed papers:
Monitoring of adherence to liquid antiretroviral medication in South African children – results and challenges.
Müller AD., Bode S., Myer L. and von Steinbüchel N.
Conceptualization and validation of a new metric–sum of squares adherence index (SSAI) – for medication compliance.
Grubisic M., Gwadry-Sridhar F., Nichol MB., Yu A., Zhang Y., Cabilio P.
Electronic Monitoring of Immunosuppressive Medications: Should Two immunosuppressive Medications Be Monitored?
Russell, C., Conn, V., Ashbaugh, C., Hayes, K., Madsen, R., Ross, G.
15:45-16:15 Coffee break & Poster session
16:15-18:15 Keynote session: Economics of non-adherence (chair: Rainer Düsing)
Michael Halpern: Economic aspects of short persistence with chronic-use pharmaceuticals
Ron Herings: Economics of persistence with 'hard' outcomes
Dyfrig Hughes: Ultra- long acting pharmaceuticals: Do they result in better outcomes, and at an acceptable cost?
John Urquhart: Discussant
18:15 Concluding remarks, next year organization, and symposium closure.
Bernard Vrijens
Poster contributed session
Compliance to medical prescription in patients before and after liver  transplantation (LT).
Canova D., Germani G., Rumiati R., Masier A., Cillo U., Tomat S.,    Perissinotto E., De Bona  M., Sturniolo G.C., Burra P.
Metodological considerations in using claims databases to evaluate compliance and persistence with bisphosphonates for osteoporosis.
Cramer, J and Middelhoven, H
Medication Taking Patterns in Adult Renal Transplant Recipients.
Russell, C., Conn, V., Ashbaugh, C., Hayes, K., Madsen, R., Ross, G.
Adherence to antidementia drugs  determined by electronic monitoring.
Schwalbe O., Kloft C.
Reasons for non-compliance with referral.
Tjiam, A. M.; de Graaf, M.; Groenewoud J H.; de Koning, HJ.;Simonsz  HJ.1
A visual analogue scale to evaluate patient's self-estimation of adherence to medication using electronic monitors as comparator.
Zeller A, Ramseier E
Conference venue: Universitätsclub, Bonn, Germany